Award-winning food writer Felicity Cloake gets creative with our new Pantry range
Vinegar is one of those things we don't tend to give much thought to beyond something to splatter on hot chips or dunk our bread into – yet this ancient condiment is one of the most important ingredients any cook can have in their cupboard. Not only is it a way to add acidity, and thus complexity, to any dish (it's impossible to imagine anything from a Goan vindaloo to a simple platter of oysters without it), but it brings with it the flavour of its base spirit – and fruit vinegars are some of my favourites, bringing with them all the perfume and promise of summer in one handy little bottle. Whether you use them to dress salads or drizzle on desserts, they're utterly transformative.
Here are three recipes that show how versatile these fruit vinegars can be!
Goat's Cheese and Hazelnut Salad with Blackcurrant and Mustard Vinaigrette
A robust winter salad with a deliciously zingy, fruity dressing that sings of summer. You could use any of the fruit vinegars here, but I love the intensity of the blackcurrant variety with the peppery leaves and creamy cheese.
Serves 4
40g hazelnuts
Extra virgin olive oil, to drizzle
150g soft goat cheese, e.g. Chèvre bûchette frais cendrés
4 tbsp blackcurrant vinegar
75ml fairly neutral oil
2 tsp wholegrain mustard
300g salad leaves (I like watercress here)
2 sprigs of thyme, leaves picked, or a pinch of dried thyme
1 Heat the oven to 200C/180C fan. Put the nuts on a baking tray and toast for 7-8 minutes until golden, then set aside and allow to cool, leaving the oven on.
2 Cut 12 thin slices from the baguette, arrange on the hot baking tray and drizzle on both sides with olive oil. Season, cut 12 thin slices of goat cheese and place on top, then bake for 7-10 minutes, until the bread is toasted.
3 Meanwhile, make the vinaigrette. Put the vinegar and mustard into a large bowl or a jam jar and whisk or shake in the oil until emulsified. Season well.
4 Put the leaves in a large salad bowl, add the vinaigrette and toss well until the leaves are all well coated. Roughly chop the remaining hazelnuts and scatter on top, then scatter the toasts with thyme leaves, put on top and serve.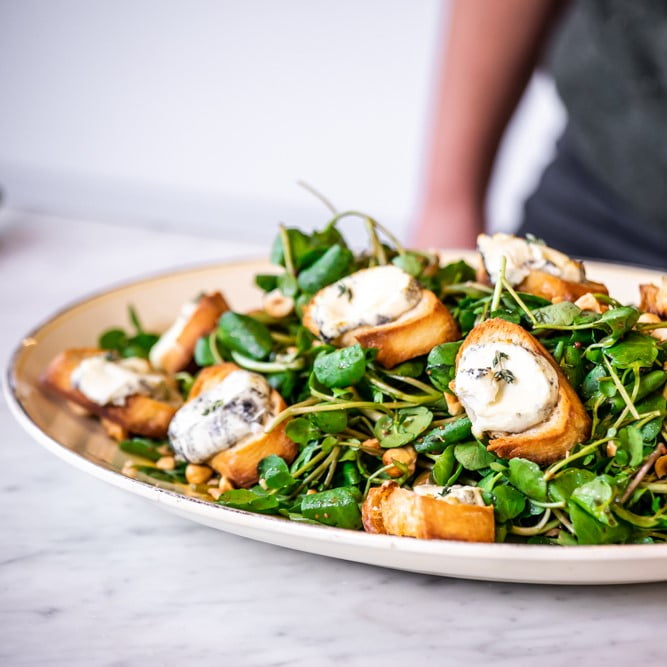 Apricot and Honey Glazed Confit Duck with Moroccan-spiced Squash
As confit duck is already cooked, it's a great thing to keep in stock for when you don't have time to do much more than turn on the oven. This warmly spiced traybake is inspired by the flavours of North Africa, with a sharp, sticky honey and vinegar glaze that cuts through the richness of the duck nicely. Serve with a green salad, or steamed couscous.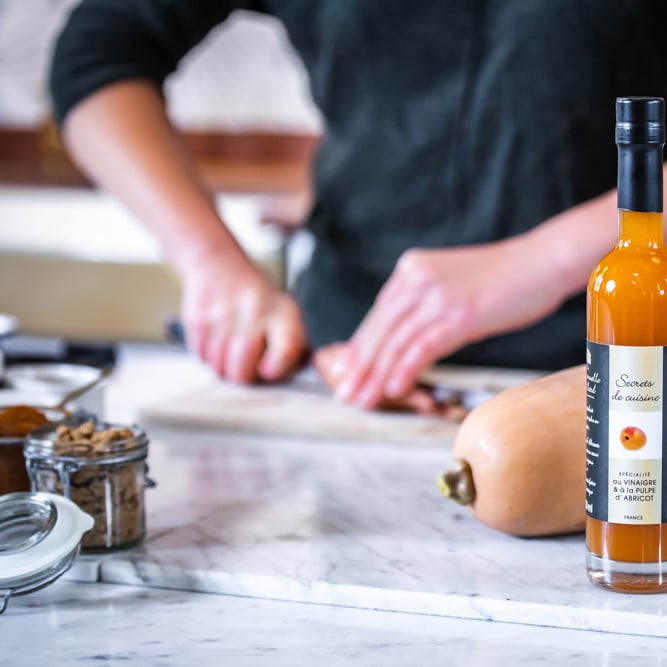 Serves 4
1 butternut or other medium winter squash
4 long shallots
2 tbsp olive oil
1 tsp turmeric
1 tsp ground ginger
Black pepper
12 soft prunes
5 tbsp apricot vinegar
4 tbsp honey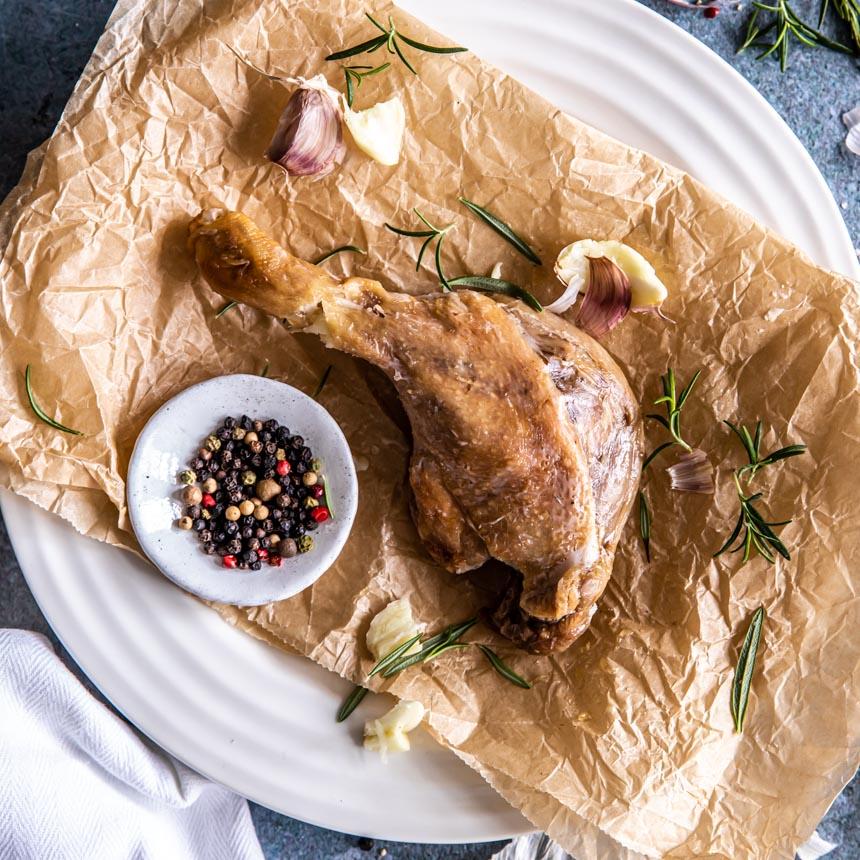 1 Heat the oven to 200C/180C fan. Peel and deseed the squash and cut into roughly 2cm cubes. Peel the shallots and cut in half. Put both in a large baking dish and add the oil, turmeric, ginger and a good grinding of black pepper and pinch of salt. Toss together, and bake for 20 minutes.
2 After 20 minutes, toss the vegetables again, adding the prunes, and arrange the confit duck on top – you can discard some of the fat if you like (keep it for roasting or frying potatoes) but scoop any jellied stock out of the bag and mix it in with the vegetables. Put back in the oven for a further 20 minutes.
3 Meanwhile, put the honey and vinegar in a small pan, bring to a simmer and bubble until reduced to a sticky sauce. Keep warm.
4 Take the baking dish out of the oven and heat the grill to high. Glaze the duck with some of the sauce and grill until golden and crisp (this should only take a few minutes), then drizzle the rest of the warm sauce on top of the vegetables and serve.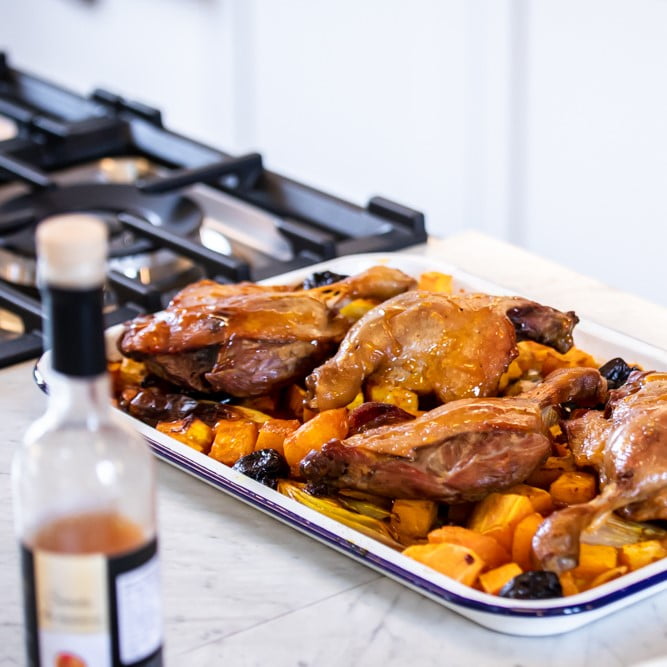 Black Forest Pavlovas with Raspberry Vinegar Syrup
Vinegar might not seem the most likely of ingredients in a dessert, but here, reduced to an intensely fruity syrup, it acts as a counterbalance to the richness of the cream and the sweetness of the meringue with very grown-up results.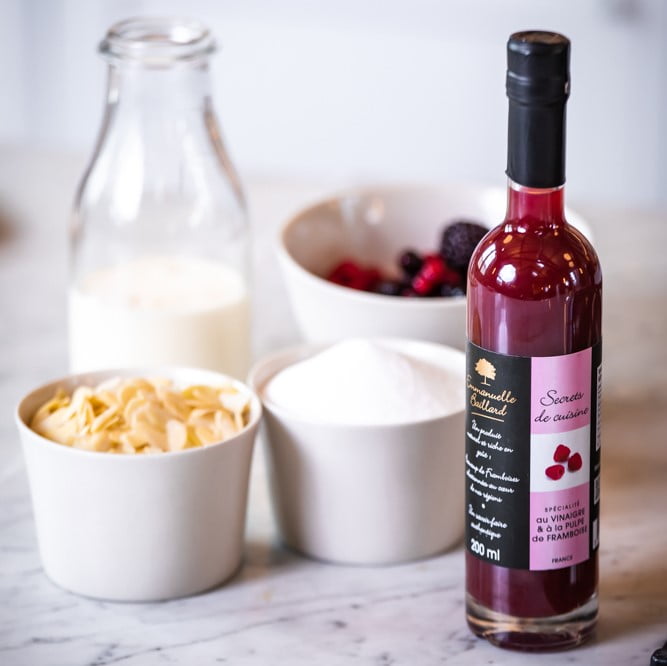 Serves 4
150ml raspberry vinegar
100g sugar
2 tbsp flaked almonds
150ml whipping cream
4 meringue shells
200g frozen black forest fruits, defrosted
4 sprigs of mint (optional)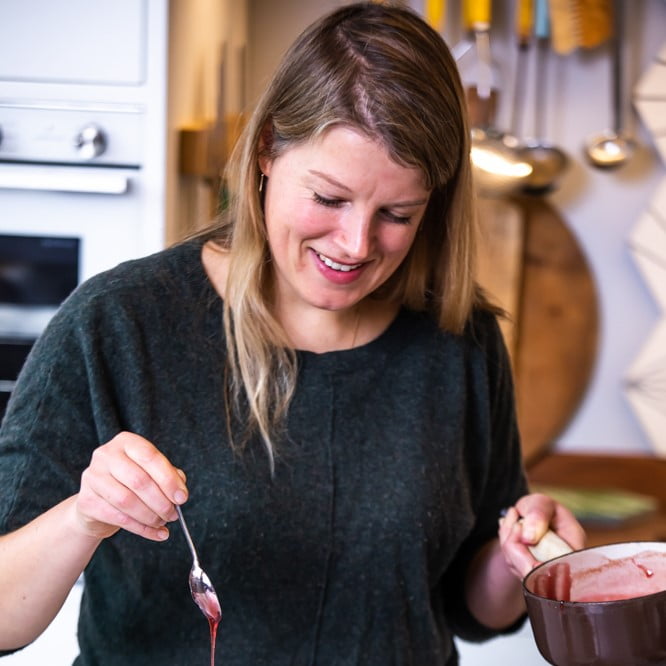 1 Start by making the syrup. Put the vinegar and sugar into a small pan, bring to a simmer and then allow to reduce to a sticky, but still pourable sauce, almost like a loose jam. Allow to cool to just warm (if you let it get too cold it will be hard to drizzle).
2 Meanwhile, toast the nuts in a dry pan until golden, then set aside.
3 Once the sauce and nuts have cooled, whip the cream in a large bowl to soft peaks.
4 To assemble the dish, put a meringue base on each plate and divide the cream between them. Top with the fruit, draining off excess liquid, then drizzle the syrup over the top, allowing it to run down the side of the meringues. Finish with a sprinkle of toasted nuts and a sprig of mint.